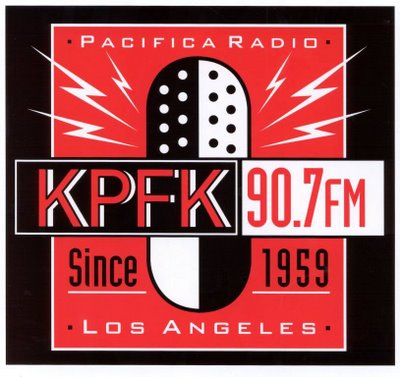 Side Dishes #1 With Oliver Wang
This week we had the debut (right at the start of the second hour) of a new monthly feature on Melting Pot at KPFK, a set put together by Oliver Wang of Soul Sides. Oliver is an old friend from back at Berkeley, where we both went to graduate school and worked at KALX Berkeley, the freeform radio station there. He's been a music journalist for a decade or more and runs one of the best audioblogs around in Soul Sides. Every third Sunday of the month, "Side Dishes" will feature several of Oliver's picks, this week including several smashingly good compilations from Soundway records and Vampi Soul.  "Side Dishes" is also available as a podcast from Oliver's website if you click here. 
The rest of the show features new music from Best Coast, Rakaa (of Dilated Peoples), M.I.A., Adam Franklin, The Pepper Pots, Tita Lima and more.  Next week we have the organizers of Make It Funky (Funk Rumble Block Party Pt. 2!), coming in to discuss what should be one of the summer's best concerts, currently set for July 31st in Los Angeles' Chinatown.  I'll also be doing a vinyl-only show next week, which I think will probably be a tradition for the end of the month from here on out.  Audio for this show will be here for a month, so listen in and tell a friend about Melting Pot on KPFK!
Melting Pot on KPFK #8: First Hour
Melting Pot on KPFK #8: Second Hour
Playlist: 7-18-2010
{opening theme} Booker T. & the MGs – Melting Pot – Melting Pot (Stax)
~~~~ Break ~~~~
Rastus – Sailin' Easy – Rastus (GRT)
Menahan Street Band – The Contender – Make The Road By Walking (Dunham)
Quantic – Dub Y Guaguaganco – Dog With A Rope (Tru Thoughts)
Sahr Nagaujah & Antibalas – Upside Down – Fela! (Original Broadway Cast Recording) (Knitting Factory)
Cochemea Gastelum – Guardian Angel – The Electric Sound Of Johnny Arrow (MRI)
~~~~ Break ~~~~
The Pepper Pots – Real Tru Love – Now! (Black Pepper)
Jackie Lee – Let Your Conscience Be Your Guide – 7" (Mirwood)
Neverever – Blue Genes – Angelic Swells (Slumberland)
Tita Lima – Mundo Pequeno – Possibiliadades (Label A)
Foreign Exchange – Take Off The Blues – Leave It All Behind (Halls Of Justus)
Orgone – Mantanza – Cali Fever (Ubiquity)
~~~~ Break ~~~~
Rakaa feat. Mad Lion – Observatory – Crown Of Thorns (Decon)
Connie Price & the Keystones feat. Aloe Blacc – Tell Me Something – Tell Me Something (Ubiquity)
Saravah Soul – Alforria – Cultura Impura (Tru Thoughts)
Soul Investigators – On Broadway – 7" (Timmion)
~~~~ Break ~~~~
Side Dishes with Oliver Wang of Soul-Sides.com #1:
{theme} The Nite-Liters – Down & Dirty – 7" (RCA)
The Funkees – Breakthrough – The World Ends: Afro Rock & Psychedelia in 1970s Nigeria (Soundway)
Lijadu Sisters – Life's Gone Down Low – The World Ends: Afro Rock & Psychedelia in 1970s Nigeria (Soundway)
Cumbia Siglo XX – Nagal Pegale – Palenque Palenque: Chapeta, Criolla And Afro Roots In Colombia 1975-1991 (Soundway)
Wganda Kenya – Pim Pom – Palenque Palenque: Chapeta, Criolla And Afro Roots In Colombia 1975-1991 (Soundway)
Los Destellos – Guajira Sicodelica – Cumbia Beat: Experimental Guitar Driven Tropical Sounds From Peru 1968-1976 (Vampi-Soul)
~~~~ Break ~~~~
Best Coast – Boyfriend – Crazy For You (Mexican Summer)
The Spectrals – 7th Date – 7" (Slumberland)
Adam Franklin – Carousel City – I Could Sleep For A Thousand Years (Second Motion)
Sleepy Sun – Lord – Embrace (ATP)
Total Babe – Country – Heatwave EP (So Tm)
~~~~ Break ~~~~
M.I.A. – Tell Me Why – MAYA (N.E.E.T. / Interscope)
Pollyn – If I Chose You – This Little Night (Self-Released)
Alpha – Dim – The Impossible Thrill (Melankolic)
Francoiz Breut – 2013 – A l'aveuglette (T-Rec)
~~~~ Break ~~~~
{closing theme} Dungen – C. Visar Vagen – Tio Batar (Kemado)