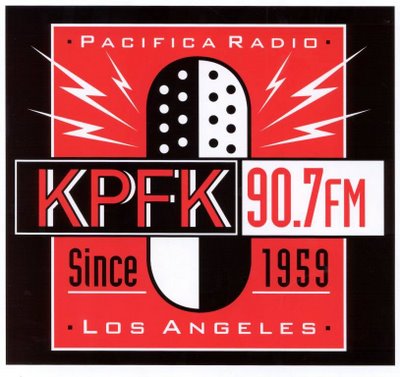 This week's show begins with a song in loving honor to my grandmother who's 85th birthday was Sunday, as well as my brother whose 43rd birthday would have been the same day. The Swan Silvertones are perhaps the greatest gospel vocal group of all-time. They remain a favorite of my grandmother's and it seemed a fitting choice to begin things. That first set also features a song from an Atlanta group I miss dearly, Smoke, defunct for over 10 years now since frontman Benjamin's passing. The song "Pretend" was originally released on 7″ and along with their song "Hank Aaron" is one of the few tracks from my college years that can almost bring me to tears.
We stayed mellow and contemplative for a bit in the beginning of the show, but eventually moved all over the place with new music Sun Kil Moon, Dungen, Axel Krygier, Betty & the Werewolves, Bilal, Belleruche, local favorites Chicano Batman (who will be our guest during next week's all vinyl affair!) and Warpaint covering David Bowie.
This week we also had the third installment of "Side Dishes" with Oliver Wang of Soul-sides.com, at the start of the second hour. Playlists should be up tomorrow.
Melting Pot on KPFK #15: First Hour
Melting Pot on KPFK #15: Second Hour
Playlist: 9-19-2010
{opening theme} Booker T. & the MGs – Melting Pot – 7" (Stax)
~~~~ Break ~~~~
The Swan Silvertones – Amazing Grace – Get Right with the Swan Silvertones (Archives Alive)
Sun Kil Moon – Half Moon Bay – Admiral Fell Promises (Caldo Verde)
Smoke – Pretend – 7" (Colossal)
The Walkmen – Stranded – Lisbon (Fat Possum)
The Naked Angels – Toccata For Truck – The Naked Angels: Original Soundtrack (Straight)
~~~~ Break ~~~~
Dungen – Nasta Sommar – Skit I Allt (Kemado)
Belleruche – Ginger Wine – 270 Stories (Tru Thoughts)
Bilal – All Matter – Airtight's Revenge (Plug Research)
Axel Krygier – Campo De Marte – Pesebre (Crammed Discs)
Chicano Batman – It's A Baloon – Chicano Batman (Unicornio)
Dungen – Blandband – Skit I Allt (Kemado)
~~~~ Break ~~~~
El Guincho – Soca Del Eclipse – Pop Negro (Young Turks)
J-Rocc – Play This Too – Play This (One) 12" (Stones Throw)
Wganda Kenya – El Lobo – Palenque Palenque (Soundway)
Cut Chemist – West Side (excerpt) – Sound Of The Police (A Stable Sound)
~~~~ Break ~~~~
Side Dishes: September 2010 w/ Oliver Wang of Soul-Sides.com
~~~~ Break ~~~~
Betty & the Werewolves – David Cassidy – Tea Time Favourites (Damaged Goods)
Aloe Blacc – Green Lights – Good Things (Stones Throw)
Orgone – Done Deal – Killion Vaults (Ubiquity)
Blonde Redhead – My Plants Are Dead – Penny Sparkle (4ad)
The XX – Stars – XX (XL)
Salsoul Orchestra – Magic Bird Of Fire (Fire Bird Suite) – Walter Gibbons – Jungle Music: Mixed With Love: Essential & Unrelased Remixes 1976-1986 (Strut)
~~~~ Break ~~~~
War Paint – Ashes To Ashes – We Were So Turned On: A Tribute To David Bowie (Manimal Vinyl)
Davie Bowie – 1984 – Diamond Dogs (Virgin)
Fabienne Del Sol – On My Mind – On My Mind (Damaged Goods)
~~~~ Break ~~~~
{closing theme} Dungen – C. Visar Vagen – Tio Batar (Kemado)