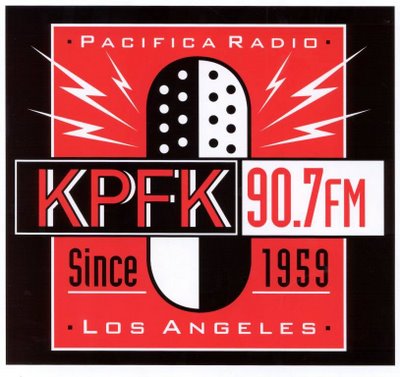 Had a truly fine time yesterday on the radio show, even though some Gremlins apparently were playing some tricks on me with technology issues (or perhaps the vinyl gods were displeased that I was going to use a bit of Serato during my Halloween set at the end of this otherwise all vinyl show…), but thankfully they didn't stop all the treats we had for you during yesterday's show. Started things off with a big thank you, via Sam & Dave, to everyone who pledged during KPFK's recent fundraiser…you didn't have to, but you did, and I thank you as does everyone else at KPFK. Also played "Willow Tree" from Gregory Isaacs, just as a far to short tribute to the amazing singer who passed away earlier in the week.
This show featured a couple of really special treats. In the first hour we had a truly dynamite guest set from Scott Craig of Records LA, (click here to hear this set all by itself) and in the second hour we had the 1st part of an interview and performance I did this week with Denmark's Quadron! I'll be posting up the full interview early next week, after I air part 2 this sunday. They performed "stripped down" versions of their tracks "Simili Life" and "Pressure" during this part of the interview and we talked about how the group got together and also about their take on a truly modern soul sound. Part 2 next week also includes a couple of exclusive performances just for us so you definitely want to tune in to hear it!
The show closed with a special Halloween inspired set. In the studio there was another sneak attack of Gremlins messing with my recording, so I had to redo the set at home and mix it into the original show. You miss my final break, but you get a nice mini Halloween set that I hope you enjoy. Next week we've got a TON of new music that's been accumulating since the October fundraiser began, plus the second half of the Quadron interview (this time with a giveaway)!
Melting Pot on KPFK #20: First Hour
Melting Pot on KPFK #20: Second Hour
Playlist: 10-31-2010
{opening theme} Boris Gardiner – Melting Pot – Is What's Happening (Dynamic)
~~~~ Break ~~~~
Sam & Dave – I Thank You – I Thank You (Stax)
Jun Mayuzumi – Black Room – 7" (Capitol)
The Inner Drive – Party Man – 7" (Zodiac)
The Style Council – Headstart for Happiness – 12" (Polydor)
Gregory Isaacs – Willow Tree – Best of Gregory Isaacs (Heartbeat)
Jimmy McGriff – Fat Cakes/New Volume – Soul Sugar (Capitol)
~~~~ Break ~~~~
Scott Craig Guest DJ Set
~~~~ Break ~~~~
Quadron Performance and Interview at the KPFK Studios
Quadron – Day – Quadron (Plug Research)
~~~~ Break ~~~~
Halloween Spooky Set:
John Carpenter – Halloween Theme
The Heavy – Sixteen
Screaming Jay Hawkins – I Put A Spell On You
The Frantics – Werewolf
The Creation – Nightmares
Michael Jackson – Thriller