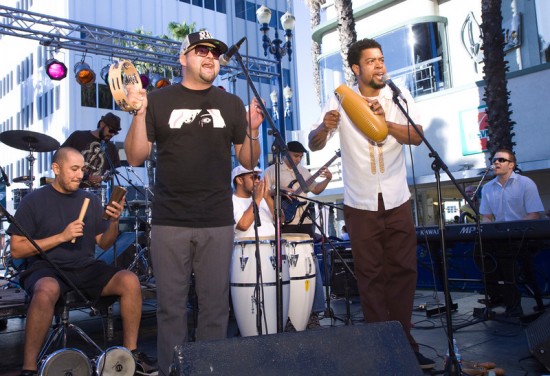 Can't express how thankful I am that the Boogaloo Assassins came into our studios here at KPFK. The band performed 6 songs, at the start, "Para Mi," "Do You Wanna Dance," and their blistering cover of Dawn Penn's "No No No" and then after the interview you hear their version of Eddie Palmieri's "Ay Que Rico" (one of my all-time favorite Boogaloo tracks), "Mi Heva" and the finale is a soul-clap-tastic cover of Joe Bataan's "Magic Rose". During the interview I talk with the band about how they found their way to this sound, the benefits and pitfalls of playing a retro style without a scene and their plans for the future, which thankfully and finally include some recordings (on vinyl no less!!!). Only unfortunate thing was that I didn't have my camera to take some pictures, but perhaps next time. What we do have is an amazing performance from a dynamite band with the best yet to come. Big thanks to the group for coming in and to Stan Misraje for all his production wizardry…Enjoy it to the fullest!!!
The Boogaloo Assassins on KPFK's Melting Pot: Recorded 10-12-2011
…If you're in LA, the Boogaloo Assassins are performing quite a few shows in the next month. As you can tell from the interview/performance this a band that is built to be heard live, so take advantage of these opportunities to see this amazing band.
The Boogaloo Assassins upcoming performances in the LA area:
November 30th @ La Cita
December 10th @ The Mint
December 18th @ The Copper Door (Santa Ana)