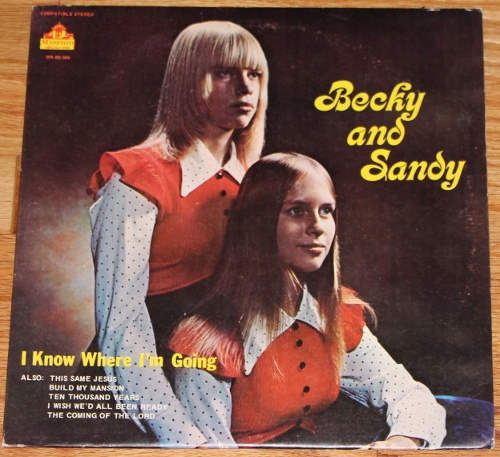 Becky and Sandy – I Wish We'd All Been Ready
David Lewis – Coming Super President Of The World Sermon and Prayer
Becky and Sandy – Ten Thousand Years
{In addition to being off the KPFK airwaves until Aug. 26th, I'll be taking a bit of time off from the blog as we move to a new house and I celebrate a birthday. Enjoy the sounds, especially these from Becky and Sandy!}
Just the other day I was waxing poetic with a friend about how 2012 has been somewhat disappointing on the apocalyptic front. We got some good stories at the start of the year, but now everyone has been focused on the Olympics and the Presidential Race, it's like they forgot about the end of the world that's supposed to come in December. Well, thanks to this find dug up at the Record Jungle in Montebello for $4, I think we're covered by this blast from the past rapture and antichrist "gospel doom" record.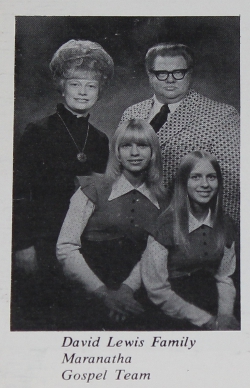 When I run across albums like this, created by a family, I can't help but wonder what happened to these people. Did they stay in the church? Did they lose themselves in Hollywood or Sin City? Or did they just lead (or are leading) normal lives? When you see a cover like this, with music AND a sermon like this, you just have to wonder. As best I can tell, the Lewis family was from West Virginia. I'm guessing this was their only recording on the Nashville based Mission Records, who boast "let us record you at prices you can afford." Lord only knows how many of these were pressed, but they've found there way onto a couple of other blogs largely for the slightly unsettling cover art. Perhaps more unsettling, at least for those not familiar with this kind of preaching, is the explicit focus on damnation for those who are not saved. The title of the record, "I Know Where I'm Going" and also the title of the best song here, the rapture anthem, "I Wish We'd All Been Ready" hint at this. Becky and Sandy are part of the saved, they are clearly going to heaven. But when the rapture comes, ALL of us are not going to be going because ALL of us simply were not ready. There's some truly classic lines in "Ready," perhaps I'll transcribe the lyrics at a later date, it's definitely the best "Left Behind" song I've ever heard and almost has a Nancy Priddy kind of quality to it.
As quirky and unique as the songs from Becky and Sandy are, on the flip side we have a 17 minute sermon and prayer by their father David Lewis. This simply just has to be heard and experienced so I've put virtually the whole thing out there (only cutting off the somewhat crass reminder that they also have cassettes of this sermon available for sale). For non-religious ears, there are a number of sample worthy quotations to pull from this as Lewis talks about the anti-christ and the powers of Satan. For the faithful, a record like this (as well as the countless other unknown or obscured private press gospel albums like it) is a reminder of the powers of belief. Such an extraordinary record, guaranteed to be on my year end list of best digs of 2012…that is, IF we make it to 2013.
Cheers,
Michael