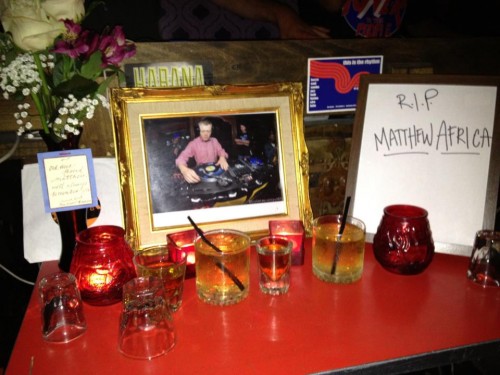 It's been almost a week since Matthew left this world, 4 days since I heard the news and still I'm having a hard time believing he's really gone. Maybe part of the reason for that is that so much of the music I listen to and even HOW I listen to music was influenced in one way or another by Matthew. It is as if he's always present. It doesn't take away the pain of loss, but there is some comfort in the fact that I know I'll likely be spending the rest of my life running into "Matthew Africa Records." On Sunday's show I paid tribute to Matthew Africa, playing music that reminded me of him.
In some cases they were songs that he turned me onto ("Fire Eater," "No. 1 Lady"), others were artists and songs that I know were some of Matthew's favorites, (I can remember having conversations about Love's Forever Changes, his love of Damo Suzuki era Can and how It Takes A Nation Of Millions to Hold Us Back from PE was his favorite rap record). I also included excerpts from several of his mixes, especially the all 7 inch mix he just recently completed that might have been his last (separate post on that below). Finally there are a few moments where you hear Matthew's voice, talking with Oliver Wang (who stopped by and talks with me at length in the first hour about what made Matthew so special) about how he started collecting records and revealing the mystery of how "Africa" became his family's name as well as attempting to enlighten his mates on the Stay Hatin' podcast on Jamaican music. There's also a short snippet from an interview I did with Matthew for my research on DJs in the second hour. I tried to get him to divulge what the most money he'd spent on a record was, but he wouldn't budge and just as he predicted, we're all left to wonder.
I wanted to do a tribute that would give at least a small sense of why Matthew was so important to me and so important to many others, to share some stories and music but also to share a little of his personality. I'm thankful that I was able to express to him how grateful I was while he was still here with us, but more than anything I feel truly blessed to have known him and have been his friend.
Matthew Africa Tribute on KPFK's Melting Pot 09-09-2012: First Hour
Matthew Africa Tribute on KPFK's Melting Pot 09-09-2012: Second Hour
Playlist: 09-09-2012
{opening theme} Booker T & the MGs – Melting Pot – 7" (Stax)
~~~~ Break ~~~~
Rusty Bryant – Fire Eater – Fire Eater (Prestige)
Love – You Set The Scene – Forever Changes (Elektra)
Billy Harper – Priestess – In Europe (Soul Note)
~~~~ Break ~~~~
Jimi Hendrix – Crosstown Traffic – Electric Ladyland (Elektra)
Matthew Africa On How He started Collecting Records –Excerpt From An Interview With Oliver Wang
Buddy Miles – Down By The River – Them Changes (Mercury)
Sly & the Family Stone – Can't Strain My Brain – Small Talk (Epic)
Excerpt from A Tribute To The Mizell Brothers: A Mix By Matthew Africa (blog.djmatthewafrica.com)
~~~~ Break ~~~~
Can – Halleluhwah – Tago Mago (UA)
James Brown – You Mother You – SHo Is Funky Down Here (King)
~~~~ Break ~~~~
Jackson 5 – Walk On – Goin' Back To Indiana (Motown)
Public Enemy – Caught, Can We Get A Witness – It Takes A Nation OF Millions To Hold Us Back (Def Jam)
Excerpt from Stay Hatin' #24 (matthewafrica.podomatic.com)
Excerpt from Yay Game: The E-40 Mix by Matthew Africa (blog.djmatthewafrica.com)
Melvin Bliss – Synthetic Substitution – 7" (Sunburst)
~~~~ Break ~~~~
Ohio Players – Ecstasy (Matthew Africa Extended Edit) – Ecstasy (Westbound)
Hunt's Determination Band – No. 1 Lady – Get Your Act Together (Earwax)
Matthew Africa on the most he paid for a record – Excerpt From An Interview with Michael Barnes
Darling Dears and Funky Heavy Prod. – I Don't Think I'll Ever Love Another – 7" (Flower City)
Toni Tornado – Me Libertei – B.R.3 (Odeon)
~~~~ Break ~~~~
Excerpt from Matthew Africa Plays Seven Inches (blog.djmatthewafrica.com)
~~~~ Break ~~~~
{closing theme} Dungen – C. Visar Vagen – Tio Batar (Kemado)
Matthew Africa On The Origins Of His Name – Excerpt From An Interview With Oliver Wang
The Trinikas – Remember Me – 7" (Pearce)