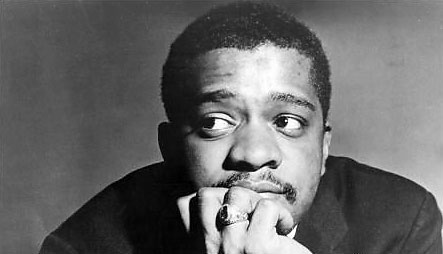 We learned this week that another giant has left us.  Donald Byrd has passsed away at the age of 80. As is the case with a lot of people from my generation, my love affair with Donald Byrd was largely connected to the use of several of his songs as samples in Hip-Hop. Having been into jazz even before I got deep into sample lore, I appreciated the depth and breadth of his playing from the late 1950s into the 1970s. Unlike some of his contemporaries, Byrd's sound seemed to fit perfectly wherever it found itself. Whether he was playing blistering hard bop, the most soulful soul jazz, serene and pretty ballads or sweaty dancefloor jazz-funk, Byrd always sounded like he was just where he was supposed to be, comfortably at home. We'll pay tribute to the many moods of Donald Byrd during the first hour of Sunday's Melting Pot, for now here are 5 of my favorite songs from a legendary musician and great teacher, peace be with you Donald Byrd.
Donald Byrd – Blackjack
Likely the first track that I recognized as a being from Donald Byrd, even before I fully discovered Byrd's playing with the Mizell Bros., was this deeply soulful number from a 1967 album of the same title. Pianist Cedar Walton lays it down hard and heavy, Smilin' Billy keeps things soulful and breezy with the drums and Byrd, as usual soars through his solo. To this day, still on my all-time favorite soul-jazz numbers.
Horace Silver feat. Donald Byrd – Senor Blues
While Byrd had an amazing career as a leader, he also had a part in the recording of a number of exceptional recordings as a sideman. Perhaps my favorite is the vocal version of "Senor Blues" which unfortunately is not online, but the instrumental version also showcases Byrd's playing very nicely.
Donald Byrd – Lansana's Priestess
"Lansana's Priestess" was the song that started my love affair with the Mizell Bros. style of production. More so than any other artist they recorded with during the 1970s, the Mizell Bros. sound blossomed with Donald Byrd. Though I've never had the guts to throw this on while DJ-ing in a club, as soon as the song begins I immediately want to dance. One of the most uplifting grooves of all time.
Donald Byrd – (Fallin' Like) Dominoes
Simply put, my single favorite song recorded in the 1970s. Nothing fills my heart with joy quite like this song. "Dominoes" truly is the sound of summer. Trips me out that I was exactly 4 days old when this song was recorded.
Donald Byrd – Quiet Temple
I'll saying quite a bit more about this one in a moment, but for now, I'll just say that this is also one of my all-time favorite songs. "Quiet Temple" is one of the most beautiful pieces of music I've ever heard and more than any other song it's the one that's been in my mind since hearing of Donald Byrd's passing. A fitting elegy for a true giant.