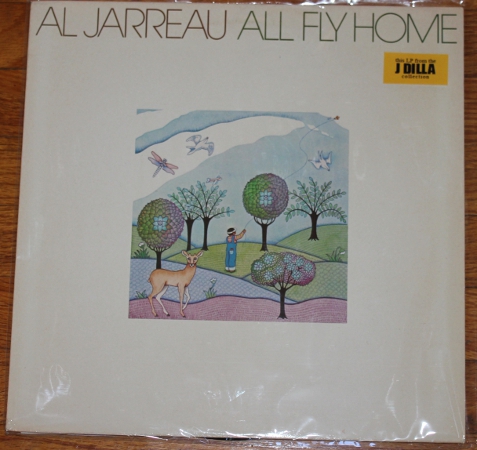 Al Jarreau – Brite 'N' Sunny Babe
Al Jarreau – Thinking About It Too
Al Jarreau – All
Now, I know exactly what you're thinking…why are you posting up a record from Al Jarreau?!?!?!?!! Well, this one has a little story behind it. In January word spread that Ma Dukes, J Dilla's mother, was putting up a portion of the famed DJ/Producer/MC's record collection on Ebay for fans to own a bit of Dilla's collection. The records were discovered in a storage locker in Detroit recently and the family made the decision to sell a portion of the collection with the funds going to the J Dilla Foundation. When I first heard about this, I will admit that I was a bit saddened. I'd prefer to have Dilla's collection preserved and archived as an artist of his growing legacy deserved. However, the more I thought about it, I took it under consideration that as a Hip-Hop DJ coming up in the years way before Serato and all the rest, it was highly likely that this collection had quite a few "Doubles," and "driftwood" that don't necessarily need to be archived. So actually it's a pretty special thing, giving fans the chance to own a record that according to the family was actually bought by Dilla and was included in his collection.
Given that all of the records were just randomly selected and sent out to buyers, there really was no way to anticipate what you would get. After the first batch sold out quickly, a few people reported getting records from Deodato and Cannonball Adderley as well as George Shearing. When the second batch popped up just after Dilla Day, I decided to give it a shot and buy just 1 record. I could have bought a great deal more, but that seemed selfish. I wasn't buying the record as an investment, it was truly about owning a (potential) piece of history if the record you bought was something that Dilla might have used on a sample. Of course I was hoping for some kind of obscure, rare private press funky gem that I'd never heard of and would be impossible to get. I knew it was a distinct possibility that I might get a complete "lemon" of a record.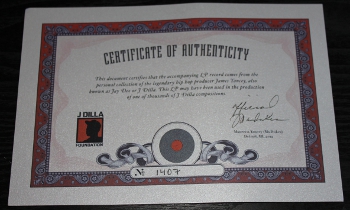 Which brings us to Al Jarreau. Never, even when I was a highly impressionable kid, have I liked Al Jarreau's music. His sorta-scat style has always struck me as being too over the top and when he really starts going I'm not sure if there is anything that is more un-listenable. So, when the record finally arrived and I opened it up and it was Al Jarreau, I'm not gonna lie, I hung my head down, shook it unbelievably and just laughed, loudly. Of all the possible records that could have been in Dilla's collection…Al Jarreau!?!??! Seriously?!?!?!? I kept on feeling like that until I actually listened to the record. I have to admit, minus a few times where it gets too "Jarreau-y" for my tastes, this is actually a pretty nice late 1970s soul album. I'm not a Dillalogist so I don't know if he actually sampled any of the sounds on this record, but if he did, my money would have been on "Brite 'N' Sunny Babe," which just has a really nice late-summer vibe and eminently sample-able introduction.
Despite my initial shock and frustration that THIS was the record from Dilla, I have to admit, I kinda like this record. There's no way anyone could have convinced me to consciously buy an Al Jarreau record. Only Dilla could have gotten me to check this out and for that, and all the music he created, I am thankful.
Cheers,
Michael