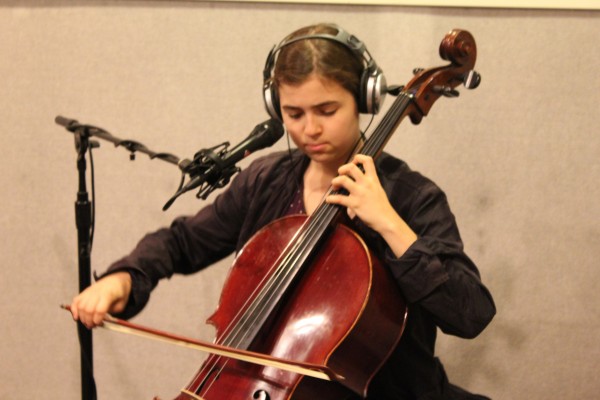 The beginning of the year is a often a time where very little happens musically. Most labels have their releases prepped for prime periods of the year, so the release of Dom La Nena's Ela in January by Six Degrees was a welcome surprise. An even greater surprise was the opportunity to have Dom spend time with us at KPFK as she embarked on her first shows in the US. In live performance, at least on this occassion, she performed entirely by herself on Cello, Ankle bells and Keyboard, using a loop pedal to give the appearance of a full string quartet. It's a really fascinating sound and in our interview we talk about what brought her to the cello, the influence of her many travels on her music, finding her voice and how she arrived at her particular style.
Dom played 5 songs, all featured on her debut release though in very different formats, "No Meu Pais,"
"Anjo Gabriel," "O Vento," "Ela," and "Buenos Aires." The last track features the voices of yours truly, sound engineer Mark Maxwell and Dom's husband Jeremiah providing background vocals at the very end in what I dub as the "KPFK Chorus" at the end of the interview. Truly a unique experience and a captivating snapshot of an artist on the rise.