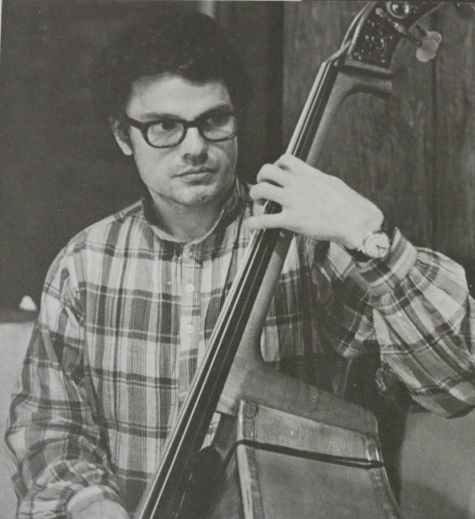 This was a very special show. I wasn't on the air last week, so I wasn't able to share the Charnett Moffett interview or pay tribute to Charlie Haden. With Haden's passing, Moffett is without a doubt the best bass player walking the earth. We recorded the interview on Thursday, the day before we found out about Haden's passing and so we don't discuss him, and instead focus solely on Moffett's exceptional career. It's truly an honor to be able to pair this interview and performance with a tribute to Haden, as these two players (along with Mingus) are my favorite bassist/composers in Jazz History.
In the week since we learned of his passing, I've spent a lot of time reflecting on Haden's legacy and listening to all of the fantastic tributes on KPFK. I'd pretty much known what songs I was going to play featuring Haden within a couple of hours of hearing of his passing. I'm struck that with an entire week of programming, from 5 or 6 different shows on our station, there was very little overlap in the songs people played. Charlie Haden's career was so long and so stellar that we likely could have dedicated the entire week to him, 24/7, and never once repeated ourselves. In my case, I focused on songs that I had deep personal connection to. 10 years ago, I had a much more extensive collection of music that featured Haden. Over the last decade as I've started to rebuild my collection, I've often had to focus on the music that I knew I loved most. That is certainly the case with the majority of tracks I've played here, many of them recorded from around 1970 to 1973, a period of time where Haden was particularly associated with two large ensembles, his Liberation Music Orchestra and the Jazz Composer's Orchestra. The sound of these pieces is certainly within the avant-garde, but it is marked by an extraordinary soulfulness and depth of emotion that isn't always found within this particular branch of the creative music we call Jazz, but was always found in the music of Charlie Haden, regardless of what ensemble or style of music he played.
Each of these songs, as well as the recent collaboration with his son, Josh Haden and his band Spain, "You and I," testify to the extraordinary beauty of Haden's playing. As I've mentioned before, truly hearing Haden's music affected me in profound ways, not just in terms of how I approach music, but also politically, emotionally and spiritually. I am a better man and more capable of recognizing the wonders of life and playing my part to increase beauty and love in this world because of the work of Charlie Haden. I will be eternally grateful to him for the many gifts he gave us all.
Melting Pot on KPFK #171: First Hour
Melting Pot on KPFK #171: Second Hour
Playlist: 07-20-2014
{opening theme} Booker T & the MGs – Melting Pot – 7″ (Stax)
~~~~ Break ~~~~
Charnett Moffett – Interview and Performance – Recorded Live at KPFK (KPFK Archives)
~~~~ Break ~~~~
Charlie Haden Tribute:
The Liberation Music Orchestra feat. Charlie Haden – Song For Che – Liberation Music Orchestra (Impulse)
The Liberation Music Orchestra feat. Charlie Haden – Els Segadors – Ballad Of The Fallen (ECM)
~~~~ Break ~~~~
The Jazz Composer's Orchestra feat. Charlie Haden – Trans-Love Airways – The Relativity Suite (JCOA)
Joe Henderson feat. Charlie Haden – Earth – The Elements (Milestone)
~~~~ Break ~~~~
The Jazz Composer's Orchestra feat. Charlie Haden – Hotel Overture – Escalator Over The Hill (JCOA)
Spain feat. Charlie Haden – You and I – Sargent Place (Glitterhouse)
~~~~ Break ~~~~
{closing theme} The Liberation Music Orchestra feat. Charlie Haden – We Shall Overcome – Liberation Music Orchestra (Impulse)