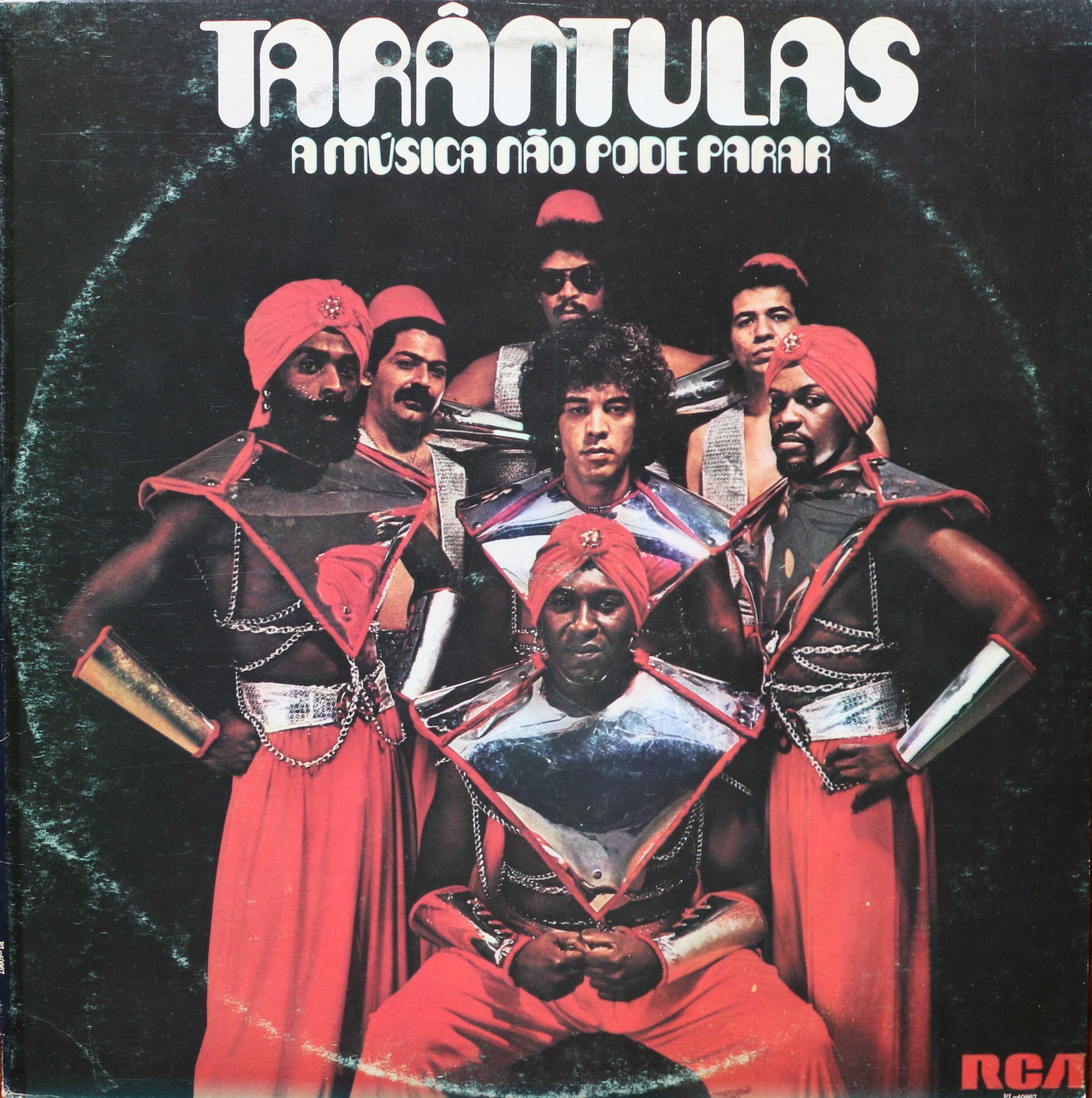 Tarântulas – Saiba Ser Feliz (Don't Stop 'till You Get Enough)
Tarântulas – Dê O Seu Amor Para Mim (Put A Little Love On Me)
Tarântulas – Melô Do Aplauso (Rap-o Clap-o)
As I'm prepping for a guest spot on Dublab with Oliver Wang of Soul-Sides.com, pulling records and 45s with covers on them, I was surprised to notice that I never shared this album (almost as shocked to discover how little I've actually shared, music-wise, over the past year…best laid plans went awry again and again, so expect much more before our 8th anniversary next Friday). I picked this us at the Mr. Bongo Record Pop-Up last November. Had never heard of Tarântulas before I saw this in the bins, and while we all know you shouldn't judge a record by it's cover…I mean, damn. LOOK AT THESE DUDES! There was no way I was not going to at least take a listen to what kind of music these dudes made.
As excited as I was by Tarântulas' outrageous fashion sense, I was even more gassed when I saw the tracklistings and noticed that they did a Portuguese version of Michael Jackson's "Don't Stop Til You Get Enough." The hits just kept coming as I noticed the final track of the record was a totally unexpected cover of Joe Bataan's Hip-Hop classic, "Rap-O, Clap-O." I'd known about Brazilian groups covering "Rapper's Delight," and how big the Hip-Hop scene became in Brazil, but I'd never heard this cover before. Sandwiched in-between were also versions of the Rolling Stones' "Emotional Rescue," the Village People's "You Can't Stop The Music," as well as a surprisingly "deep" cover of "Put A Little Love On Me," from the UK soul group Delegation. There are a few originals as well, though (in a inversion to my usual tastes) I think the covers are more interesting than the originals. Running into this (along with more Brazilian wax picked up this year) has cemented the thought in my mind that I seriously need to get down to Rio or São Paulo in 2018 and do some digging directly at the source.