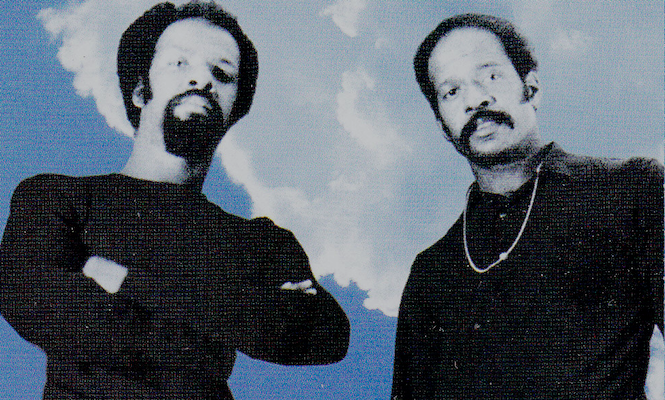 As school has started, and so has my long commute to work in Long Beach, I've been listening to more music, and to longer mixes, during my commute. For whatever reason, this mix from Matthew popped in my head and in the process it gave me an idea. As I got the privilege of being able to fill in for Kristi Lomaxx on her show, "One Track Mind," for several weeks, I began to think about possible Guest DJs or interviews, but my mind kept coming back to this mix. After double checking for the birthdays of the two brothers, I learned that the 2nd was more or less, directly located between their birthdays (Fonce [RIP] on Jan. 15th and Larry on Feb. 17). Seemed like a good idea at the time to use this opportunity to highlight a mix from my dearly departed friend, Matthew Africa. Like myself, Matthew really enjoyed the Mizell Bros. specific style. It's a beautifully constructed mix, one of my favorites from Matthew. Since I never had the chance to bring him down to LA for a Guest DJ set, I liked the idea of finally bringing a fully realized set (though it's missing the final song from Matthew's original mix) from him to the KPFK airwaves.
When he made the mix in 2010, Matthew added these comments and notes::
"Fonce & Larry Mizell are two of my favorite producers ever ever.
In fact, they almost transcend the category because on their signature records they contribute in so many ways — songwriting, arranging, playing and singing — that they elide the distinction between producer and artist.
However you want to characterize their role, they made music that's wonderful, completely original and instantly identifiable. Although they produced only two major pop hits, A Taste of Honey's "Boogie Oogie Oogie" and LTD's "Love Ballad", they crafted some of the most successful jazz albums of the 1970s and a body of work that continues to inspire producers in just about every stream of rap, soul and electronic music.
The two began began playing music in their teens, both as trumpeters and singers. After college, Larry got a job in aerospace, while Fonce went to L.A. to make it as a songwriter. He and college friend Freddie Perren landed jobs as staff songwriters at Motown and, working with Deke Richards and Berry Gordy as the Corporation, quickly scored a series of massive hits for the Jackson 5 ("ABC", "I Want You Back", "The Love You Save"). Larry finished a master's degree and moved west to join Fonce, finding work as a session keyboard player.
Fonce's first production after leaving Motown, Donald Byrd's 1973 LPBlack Byrd, was a huge hit by jazz standards and became the blueprint for a run of albums the brothers produced for Byrd, Bobbi Humphrey, Johnny Hammond, Gary Bartz and others. All combine electric instrumentation, spacey synths and skittering rhythms with lush, tricky arrangements of soaring horns and the Mizell Brothers' harmony vocals, frequently augmented by strings, sound effects and ghostly whistling. Although like many of their jazz contemporaries, they drew on rock, soul and funk the Mizells took the influence in a different direction, lightening the rhythmic pulse, softening the edges and adding many layer upon layer of harmony and counterpoint. Remarkably, as rich as the arrangements are, they never sound stiff or fussy.
I got inspired to do this mix a few months ago when I heard DJ Platurn close out the radio show that precedes mine on All Day Play with a Bobbi Humphrey song; I think it was "Chicago Damn". There were a couple of guys in the room who make beats pretty seriously and they started flipping out over the record, talking about how easy it would be to turn it into a beat, etc. I was shocked that they weren't familiar with the record or with the Mizell Brothers generally and it got me thinking about how little known the Mizell Brothers are even though their influence is so pervasive. I thought it would be cool to make a mix that highlights some of their greatest songs.
I wrestled a little bit with what fell within the scope of the mix because it's not always clear what is or isn't a Mizell Brothers record. For example, on the soundtrack to Hell Up In Harlem, Fonce and Freddie Perren are credited as producers and writers, while Larry is only credited with playing synthesizer. "Airport Chase", from that album, ended up in the mix because it sounds like a Mizell Brothers track. Similarly, their outings with Bobbi Humphrey credit Larry Mizell and Chuck Davis as producers, rather than Fonce and Larry, but Fonce was prominently featured and the music sounds like the Mizells. (Total digression: does anybody know the story on Chuck Davis? The only non Mizell-related thing he did that I know of was that kinda great crossover 7″ by Beloyd.) Other things were easier calls, like the Jackson 5 hits– great as they are, they didn't involve Larry at all, so they were clearly out.
I tried to include songs from every major project they did but things kinda clumped up around my favorites. Without realizing it, I included all six tracks from Johnny Hammond's Gears LP and not one from Roger Glenn's Reachin. (Total digression #2: if you know me in the real world, ask me to tell you my Roger Glenn story sometime.) I probably should have included more from the Blackbyrds' first album, too. If I were to recommend five records produced by the Mizell Brothers, they'd be: Donald Byrd's Places and Spaces and Street Lady, Johnny Hammond's Gears, and Bobbi Humphrey's Blacks and Blues and Fancy Dancer.
The Mizells' music doesn't really lend itself to DJing– the tempos fluctuate a lot, the arrangements are dense and the songs tend to be really long– but I did my best with it. I tried to let some of my favorites breathe, while still trying to make room for as many songs as I could. The mixing isn't airtight but is pretty good considering I did it live or at least sort of live; early in June, I recorded a live version for All Day Play in which I played and talked about the songs. In this version, I took the original mix and replaced the talking portions with music and, in some cases, additional songs."
It was a real pleasure broadcasting this one…hope y'all enjoyed it!
KPFK's One Track Mind – 02-02-2018 1st Hour
KPFk's One Track Mind – 02-02-2018 2nd Hours
Playlist:
1. Johnny Hammond – Tell Me What to Do – Gears (Milestone)
2. Donald Byrd – You and Music – Places and Spaces (Blue Note)
3. L.T.D. – Love to the World – Love To The World (A&M)
4. Margie Evans – Waterfalls – 7" (Buddah)
5. Donald Byrd – Lansana's Priestess – Street Lady (Blue Note)
6. Johnny Hammond – Conquistadores Chocolatés – Gears (Milestone)
7. Gary Bartz – Music Is My Sanctuary – Music Is My Sanctuary (Capitol)
8. Johnny Hammond – Star Borne – Gambler's Life (Salvation)
9. Johnny Hammond – Fantasy – Gears (Milestone)
10. A Taste of Honey – World Spin – A Taste Of Honey (Capitol)
11. The Blackbyrds – Reggins – The Blackbyrds (Fantasy)
12. Rance Allen Group – Reason to Survive – Say My Friend (Capitol)
13. Donald Byrd – Wind Parade – Places and Spaces (Blue Note)
14. Bobbi Humphrey – New York Times – Satin Doll (Blue Note)
15. Bobbi Humphrey – Uno Esta – Fancy Dancer (Blue Note)
16. Bobbi Humphrey – Jasper Country Man – Blacks and Blues (Blue Note)
17. Donald Byrd – Change (Makes You Want to Hustle) – Places and Spaces (Blue Note)
18. Johnny Hammond – Shifting Gears – Gears (Milestone)
19. Donald Byrd – (Fallin' Like) Dominoes – Places and Spaces (Blue Note)
20. A Taste of Honey – Do It Good – Another Taste (Capitol) {"Rock Creek Park" from the Blackbyrds, was used as a bed on the live show, to close out the first hour}
21. Donald Byrd – Think Twice [Mizell Brothers 2005 Remix] – 12" (Blue Note)
22. Gary Bartz – Gentle Smiles (Saxy) [DJ Day edit] – The Shadow Do (Prestige)
23. Donald Byrd – Places and Spaces – Places and Spaces (Blue Note)
24. Bobbi Humphrey – Harlem River Drive – Blacks and Blues (Blue Note)
25. Marvin Gaye – Where Are We Going? – 12"
26. Bobbi Humphrey – Blacks and Blues – Blacks and Blues (Blue Note)
27. Johnny Hammond – Can't We Smile – Gears (Milestone)
28. L.T.D. – Love Ballad – Love To The World (A&M)
29. Donald Byrd – Stepping Into Tomorrow – Stepping Into Tomorrow (Blue Note)
30. Donald Byrd – Miss Kane – Street Lady (Blue Note)
31. Brenda Lee Eager – When I'm With You
32. Bobbi Humphrey – Please Set Me at Ease – Fancy Dancer (Blue Note)
33. Bobbi Humphrey – My Little Girl – Satin Doll (Blue Note)
34. Donald Byrd – Slop Jar Blues – Black Byrd (Blue Note)
35. Donald Byrd – Black Byrd – Black Byrd (Blue Note)
36. Edwin Starr – Airport Chase – Hell Up In Harlem: Original Soundtrack (Motown)
37. Bobbi Humphrey – Mestizo Eyes – Fancy Dancer (Blue Note)
38. Bobbi Humphrey – Fancy Dancer – Fancy Dancer (Blue Note)
39. Johnny Hammond – Lost on 23rd St. – Gears (Milestone)