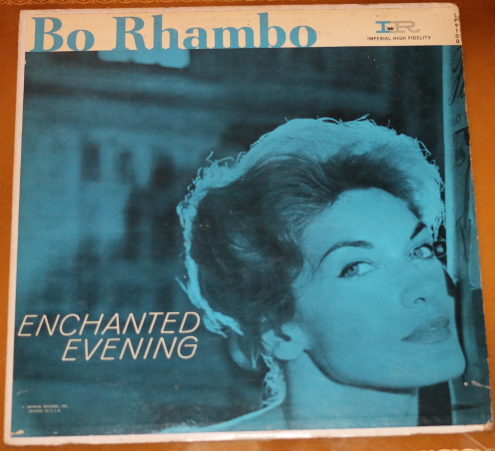 Bo Rhambo – Two For The Blues
Bo Rhambo – Blues For Two
Bo Rhambo – Dream Awhile
Bo Rhambo – My Mother's Eyes
Yesterday was my 39th birthday, and I celebrated earlier in the week by taking a trip down to New Orleans. I haven't to "the Big Easy" since I was a kid, which seems strange given how much I love the music and culture of the city. With only a few days there, predictably, I spent most of my time in record stores. I'll likely be posting many of the things I picked up there on this blog in the coming months, but this record was the one I wanted to share first.
I picked up this album from trumpeter/saxophonist (a rare combination) Bo Rhambo while at Jim Russell's Records. While most of the DJs who had suggested going to Jim Russell's (or JR's as I like to call it) talked about the 45s, I was able to find a number of really high quality jazz LPs while I was there. Sadly, Mr. Russell recently passed away, but his daughter-in-law Denise Russell has been running the place for a long time and it doesn't seem like the store is going to close anytime soon. At JR's the vast majority of LPs are $5 (or $10 if it's a double record) and the 45s are $3 ($5 if it's a picture disc) which leads to some extraordinary deals. If that wasn't enough they also have a deal where every two records you buy, you get a third one free…needless to say, this was just my kind of store.
I'll be sharing a story about my adventure looking for 45s here in the coming weeks, but for now I wanted to focus on my favorite record from the 7 or 8 I ended up getting. Recently I've been buying a lot of jazz, more so than usual, especially 1950s jazz. Most of the records I picked up were from "cool" female vocalists, like June Christy, Chris Connor and Anita O'Day. When I first saw the cover for this album, I thought for a moment that the model on the cover was Bo Rhambo, and she might be another vocalist. The cover art screams late 1950s early 1960s so it seemed like it would be in my sweet spot. When I found out the woman pictured wasn't the musician, I almost put the album down right there, but something told me to give it a listen. I'd never heard of Bo Rhambo and the stylized cover made me curious to find out what the music might sound like.
As I took out the record to see what kind of condition it was in, I was absolutely amazed at the level of smoke "damage" the record had. Dust looks very different. Sun damage looks very different. When smoke builds on a record it has a very distinctive look. I don't know who originally bought this record, where it was played, but that must have been one seriously smokey joint!
Smoke doesn't necessarily mean that the sound quality will be compromised, especially if you can clean some of the gunk off. So I gave the record a spin on the house turntable and was greeted with even smokier music in the lead track, "Two For The Blues." At the time it seemed like there was some kind of warp, but since it also seemed to be perfectly on beat, I couldn't tell if it was actually a warp, or just the percussive sound of the heavy organ on the track. Pretty much from the moment I heard that song I was hooked.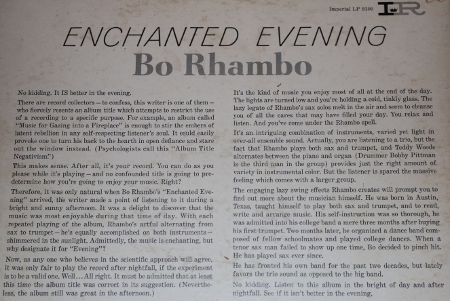 I kept on shopping and kept on listening just to see if the condition of the record was going to be good. Sure enough, it played straight through with all kinds of smokey feeling. Earlier today I set about trying to clean up the record. I got about 1/2 of the smoke cleared from Side 1, but noticed that (aside from the phantom warp, which now had disappeared) there really wasn't much of a difference between the two sides, so I decided to keep side 2 just as smokey as I found it. As the liner notes detail, this is an album that really does sound better in the evening. It was built for late nights and nefarious activity. It really has an old-school Los Angeles feel to, very noir-ish, even though I ran into it in New Orleans, I guess it fits that city too. So very thankful that I took a chance on this one, I really love this sound and hope you do to.
Cheers,
Michael