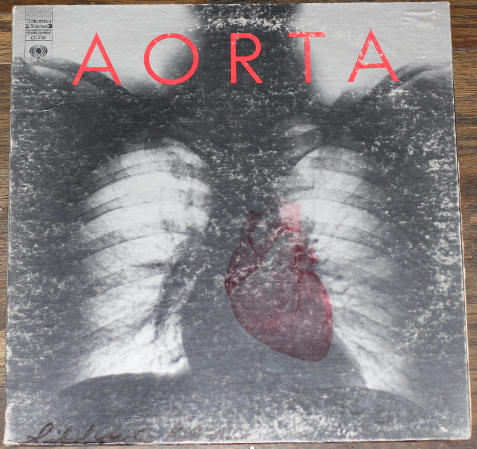 Aorta – Heart Attack/What's In My Mind's Eye
Aorta – Strange
Aorta – Main Vein II/Sleep Tight/Catalyptic
I've been sitting on this record for years. Every know and again I'll give it a spin and flip out over it all over again and promise myself to post it up here. But clearly I hadn't done it. After playing it on this past Sunday's all-vinyl edition of Melting Pot I just had to make sure I put it up here.
Aorta were a psych group from the Chicago area. In the years before they became Aorta and cut this record, perhaps surprisingly (or not surprisingly depending on your perspective I suppose) they originally had Peter Cetera in the band before he left for the ultimately greener pastures of the Chicago Transit Authority. That's definitely for the best cause I can't imagine his falsetto with this group, would have wrecked their whole vibe. Instead what we have here is a nice bit of fuzzy psych loosely built around a bunch of heart related themes. Virtually all of the songs run into each other, many feature either heart sounds or heart references (such as "Main Vein"). I'm so fond of how the songs are mixed together that it just didn't seem right to break them up. So I've kept a few of them together, along with the interesting sound effects that work as bridges between the songs. The sonic trickery that leads off "Strange" is particularly interesting, because to my post-Hip-Hop ears it sounds like a turntablist got transported back to 1969 just to cut up a little routine before this track. There's some real talent on display here, one of those instances you rarely get anymore, an imaginative group given free reign in the studio with the chance to do whatever they wanted. It's a shame the band didn't really go anywhere (if you believe what you read on Wikipedia apparently someone slipped them some bad acid just before a major industry showcase at the Fillmore East and their reputation never recovered). They were able to release a second album in 1970, simply titled Aorta 2, but I've never heard anything from it and it seems even more obscure than this one. If I run into it, I promise I won't take years and years to post that one up.
Cheers,
Michael