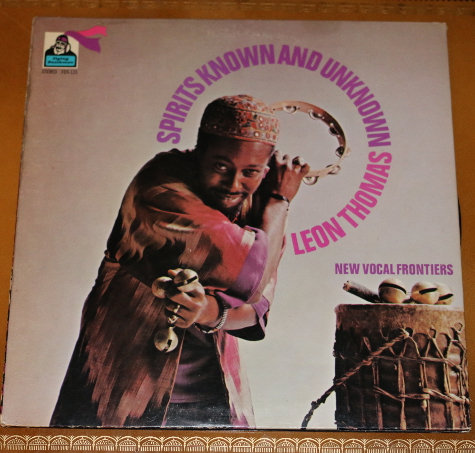 Leon Thomas – Malcolm's Gone
Leon Thomas – The Creator Has A Master Plan
Leon Thomas – One
Today marks the 50th anniversary of the assassination of El-Hajj Malik El-Shabazz, better known as Malcolm X. Malcolm is an important figure in my life, as he is for many others. For me Malcolm's influence is two-fold, there is the model he provides of Gramsci called an "Organic Intellectual," the individuals who are the vanguard of social change, who through their lived experience and talents are able to bring together disparate communities to fight against inequality and push towards liberation. Perhaps more than any other figure from the 1960s, though his time in the public was relatively short, Malcolm presented a critical and uncompromising understanding of the nature of racism, oppression and the promise of uplift through self-determination. This is especially true of Malcolm after he split from the Nation of Islam, and broadened his vision of equality.
Malcolm is also deeply important to me because there are few people who so vividly modeled the nature of redemption. From street criminal to prisoner to firebrand to finally, in his final year, visionary. Part of the lesson in the life of Malcolm X is that we always have the possibility of changing our lives, living our lives for the better and effecting change once we start on the righteous path.
So on the 50th anniversary of the moment he was ripped from us, I wanted to commemorate that by sharing one of the many tributes dedicated to Malcolm. This album by Leon Thomas is fairly well known. It marked his debut as a leader, after gaining attention earlier in 1969 as the vocalist on Pharoah Sanders' legendary Karma album. The album features Sanders on tenor, though strangely he's listed as "Little Rock," a reference to his birthplace and I suppose connected to contractual obligations (you would have thought Bob Thiele's connections to Impulse would have smoothed things over, but guess not). Aside from that, the album is notable for having a much shorter version of "The Creator Has A Master Plan," a vocal version of Horace Silver's "Song For My Father" and the anti-war anthem "Damn Nam" and most importantly, "Malcolm's Gone," dedicated to the fallen leader.
I know he's gone,
But he's not forgotten,
I know he died,
Just to set me free.
Yes Malcolm's Gone,
But he's not forgotten,
He died to save me,
Gave me my dignity.
It's a beautiful sentiment, one that pays tribute to this beautiful man and one that I felt compelled to share on this day…Additionally, here is Malcolm, in the last few months of his life, debating the issue of "extremism" at Oxford in December 1964. On display are so many of the things that many of us loved so much about Malcolm, his exceptional intelligence, his disarming smile and sense of humor and his ability to critically dismantle his opponent's argument, often using the very same logic his opponent attempted to use against him. Missed dearly, but especially during the last year of his life, a beautiful model of the redemptive power of love and the strength of speaking truth to power: