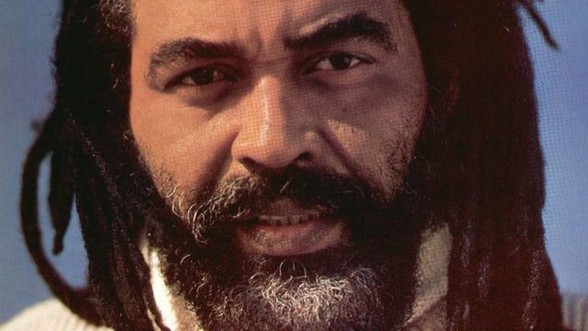 Of late I've been remiss in paying tribute to dearly departed musicians here on the blog, but when word of John Holt's passing came through earlier in the week, I knew I'd be writing a bit about this man, his amazing voice and some of my favorite tracks. What I always appreciated about Holt was his smooth delivery. So cool, just effortlessly breezy, in the way the words flow. Without a doubt I'm sure Holt was a major influence on maybe my favorite singer from Jamaica, Gregory Isaacs, and his songs have been a delight to all who've heard them. While most people know Holt's "The Tide Is High," because mega pop stars Blondie covered it in the 1980s, the man cut a number of fantastic sides, originally with his group the Paragons and just by himself. These five are the ones I'll remember him most for.
The Paragons – Wear You To The Ball

"The Tide Is High" and "On The Beach" got more acclaim, "Wear You To The Ball" is as good if not better. Maybe it's just because of the story in the song, where the singer is taking a date to the Ball, that other people wouldn't. As Holt croons, "Though you don't suit those other guys, you suit me fine." I'm a sucker for underdog/ugly duckling stories. Additionally, "Ball" has one of the most distinctive openings for a rock steady song. Just great all around.
The Paragons – I Want To Go Back

Along with all the other songs on the Paragons' album On The Beach, I discovered this one on my first trip to the Bay Area as an adult back in 1997. I don't know exactly how long it took, but I was convinced for years that the Beatles covered Holt and the gang, not the other way around. This version was just so good, so thoroughly soulful that it couldn't have originated from anyone else. To this day I can't even listen the Beatles version…for me there's just no comparison.
John Holt – A Love I Can Feel

Another cover that I didn't know was a cover until years later, in this case the Temptations, "I Want A Love I Can See." Might be a little up-tempo to fully qualify as Lover's Rock, but that sentiment and Holt's phrasing make it just about perfect.
John Holt – Let's Build Our Dreams

"Let's Build Our Dreams" is without a doubt one of the most soulful reggae I've ever heard. Some of that comes through in the just ever so slightly slower riddim and those notes on the organ. But it's Holt's singing, the style and the sentiment that kills me every time. The interplay between John Holt and Slim Smith also is deeply soulful. A classic amongst classics.
John Holt – Ali Baba

One of my all-time favorites. Not a week goes by where for one reason or another either the first line, "I dreamed last night about Ali Babe, with the 40 thieves…" or "I rode through the valley with the princess by my side…" pops into my mind. My response is almost always the same, whether I'm walking down the street, sitting in my office or in my car, in the shower, wherever…I start singing it and dance a very particular reggae step. The riddim just by itself would have made this one a classic. Holt's cooler than cool delivery makes it legendary, just like the man himself.