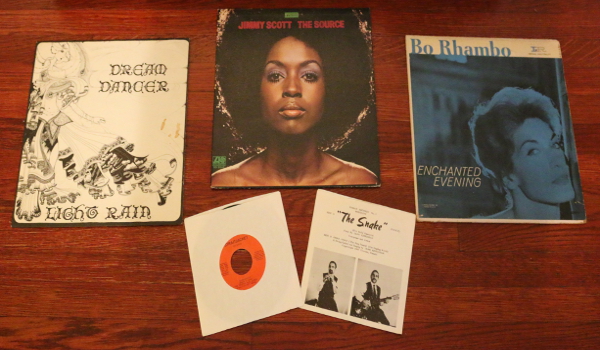 With a whole year just by myself to engage in record therapy, you could bet that I was going to I was going to stumble into some great records. As with previous years, quite a few of the records I got this year were online buys (particularly the many records I got that used to belong to dear friend Matthew Africa), but this year I also got back to digging in earnest and even went to New Orleans essentially just to buy records.
***Honorable Mentions: The Albert – S/T [Record Jungle at The Beat Swap Meet, Chinatown], The Pyramids – King Of Kings AND Birth Speed Merging [Recycled Records, San Francisco], Sidney Bechet – Jazz Classics Vol. 1 [Euclid Records, New Orleans], Sun Ra – Nuclear War [Groove Merchant, San Francisco], Lenny White – City Lights [Amoeba Records, Hollywood], Little Ann – Going Down A One-Way Street The Wrong Way / I'd Like To Know You Better [Jim Russell's Record Cellar, New Orleans]
5. Jimmy Scott – The Source – Atlantic [Record Jungle at The Beat Swap Meet, Chinatown]
Jimmy Scott – (Sometimes I Feel Like A) Motherless Child
Probably more than any other style this year, I picked up a lot of jazz records, many of them from cool vocalists like Chris Connor, June Christy and the incomprable Little Jimmy Scott. Of the three Jimmy Scott records I picked up, this was the first. As I mentioned earlier in the year, I got this one from Andy of Record Jungle fame, while at the Beat Swap Meet. I really can't improve on what I said earlier, so I'll just say it again:
"There are quite a lot of albums like this from singers who's best days were already past them by the time the 1960s were closing. The unique beauty of Jimmy Scott's voice allows him to rise above and soar through these tunes. Few artists can stop me dead in my tracks with a single note. Hearing Scott's voice on this album certainly has that power."
4. Light Rain – Dream Dancer – Magi [Atomic Records, Burbank]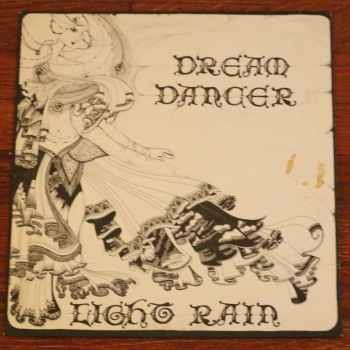 I swore that I had posted this one earlier, but now that I think about it, I'm pretty sure I was waiting to get another record from this same group before posting this one. I'd seen this album a couple of times at Atomic and each time I'd thought that maybe i should pick it up. I'm not sure why I pulled the trigger on the third time seeing it still there, but I'm glad that I did. Light Rain was a ensemble put together by Doug Adams, and as far as I understand it they were the first American group to perform this style of music, often described as belly dance music. While that is clearly a major part of this album, what struck me about the album in its totality, and "Beautiful Friend" in particular, was just how beautiful and idyllic the music was. More than any record in 2014, this was the one that I listened to again and again and again and again.
3. Bo Rhambo – Enchanted Evening – Imperial [Jim Russell's Record Cellar, New Orleans]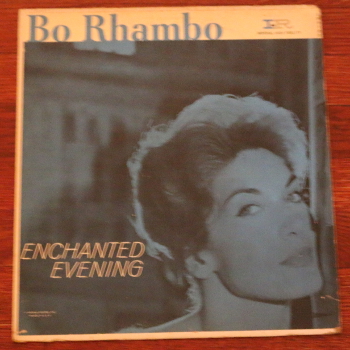 I think this record finds itself on this list as a representative for my trip down to the Crescent City. I've already said a bit about the story behind finding this one at Jim Russell's, but damn if every time I drop the needle I'm transplanted back to that dusty space, looking at the smokiest record my eyes have ever seen and swaying to the smoky sounds coming out of the speakers. I hope that feeling never leaves me.
2. Jean Kassapian – The Snake / Aman Amn – Kassap [Private Collection]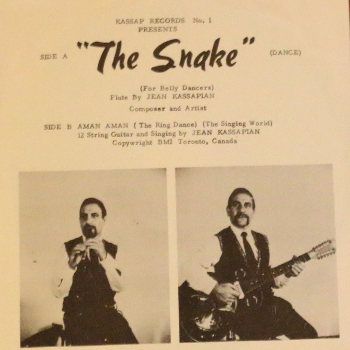 Back in the spring I wrote about this one and also the 45 that ended up as my top find of the past year. I've never actually gone through a private collection like that, the thought had never even occurred to me to ask a dealer if they had more that I could look through. Clearly I'm glad that I finally did. Aside from the beauty of copping a rare 45 that runs for $100-200 for only $5, I got this one just before doing a guest set at Funky Sole. Hearing that crowd let out a little cheer when the song came on, as if it was #1 hit or something, instead of a obscure bit of Armenian belly dance music…writing that, I just realized that this list includes not one, but two belly dance records. Maybe I need to pay more attention to that style.
1. The Peppos and Jones Straigtjacket Band – Humanity / High School Years – Straitjacket [Private Collection]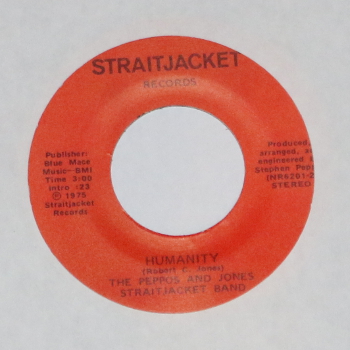 The Peppos and Jones Straightjacket Band – Humanity
When I wrote about this one back in the spring, I didn't really think of it as the best thing I found for the entire year. It really wasn't until I was playing it on-air during my year end show that I really fully appreciated how special, strange and unique this record is. The louder you can play it, whether on house speakers or head phones, the better it gets. "Humanity" is so good, it just makes how ordinary "High School Years," sounds even more frustrating…I mean, if this group could produce something as amazing as "Humanity," just think what they could have created if they'd realized just how amazing those sounds would sound to our ears in 2014…oh well. I'm just thankful I found this one.