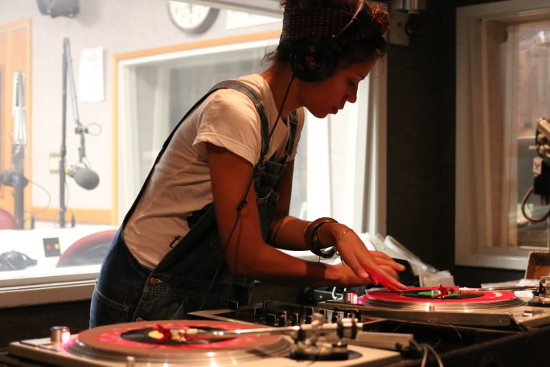 Natasha Diggs was our guest this weekend on Melting Pot. Though she's been a DJ and collector for over a decade, I only recently find out about her. In the last several months, it seemed like I kept hearing about this incredible DJ based in New York, first from Seano of KPFK's Soundwaves, where she did a Guest DJ set in May of this year (and also in June 2013) and especially in the run-up to the latest edition of Danny Holloway's Blazing 45s series, which occurred this past Friday with Natasha featured as one of the many fantastic DJs on the bill. On the regular you can find her in NY as one of the residents for Mobile Mondays at Bowery Electric, 327 Bowery @ 2nd St, along with Just Blaze, Joey Carvello, Misbehavior, Operator EMZ and others.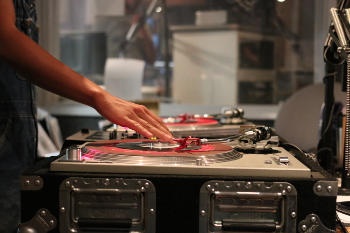 It took me all of 5 minutes of watching her skills in the mix in some videos online for me to feel deeply sorry for missing out all these years, and also to immediately contact her to try to bring her into the studio for a chat and guest DJ session. Thankfully she was able to come in and spend sometime with us, despite a weekend where she was busy spinning at Amoeba Hollywood, The Echoplex and The Ace Hotel.
In our short interview (Natasha was a bit under the weather and losing her voice, next time she's in town we'll dig deeper into things) we discuss a little bit about her background and how she came to collect and mix primarily 45s. We also talk about her approach to spinning at a variety of venues. One of the many things I appreciate about Natasha is that when you watch her DJ, aside from the top-notch skills and selection, it's really clear that she absolutely loves this music and loves playing it for people who also love to dance. Her mix is almost a full hour long, featuring all vinyl and all 45s, and moving through a variety of genres and styles in that space of time. Throughout the guest set she showcases her great ears for tunes and also battle ready skills to match, especially on some classic breaks like "Hot Pants," "Impeach the President," "The Handclappin' Song" and "Cold Feet." She didn't let on too much about upcoming plans, but I have a feeling there are big things in store for Natasha Diggs in the next year, including hopefully a return trip to LA. Don't make my mistake…do not sleep on this one…she is a mighty mighty force with those tiny records.
Natasha Diggs Interview on KPFK's Melting Pot: 07-12-2014
Guest DJ Set from Natasha Diggs on KPFK's Melting Pot: 07-12-2014