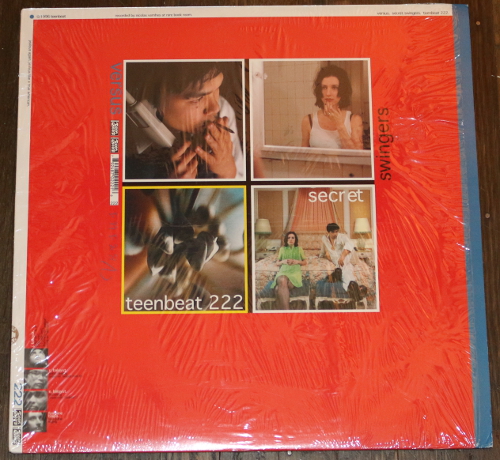 Versus – Lose That Dress/Yeah You
Versus – Jealous
Versus – A Heart Is A Diamond
Baring any further postponements, sometime this week GPB will take over daytime programming at Album 88. Over the past month there have been many tributes, like mine and the one just recently orchestrated by college and community stations all over the country, pleas from indie artists and even a counter proposal that actually includes more tangible internships and media access to GSU students than GPB has promised. We'll see how this ultimately plays out, but what is clear is how important Album 88 is to the thousands of people who have listened to it over the past 43 years and to the hundreds of us who had the privilege to work there.
My time at Album 88 was during the mid-1990s, a period of rapid change in the popular culture landscape. I arrived in 1993, at a period of time where "Alternative" was the new buzz word for the kind of music Album 88 had championed for 20 years, "college/indie rock." At that time we had commercial stations essentially take our playlist, streamline it (the 88 playlist in those days had over 70+ different artists and 200+ songs, changed on a weekly basis, with additional input from the live DJs. Commercial stations, as they still do, chopped that down to 25-40 different songs, repeated again and again and again) and then sell it to the masses. This was the period of time when regulations changed and suddenly it seemed like Clear Channel owned every other station and you'd hear the same song, sometimes at the exact same time, on multiple stations in the same market. By the end of my time at Album 88, Hip-Hop had also branched out into commercial mainstream radio. Despite, or perhaps because of these changes, Album 88 emerged out of this period focused more than ever before on truly independent artists and local talent.
I worked as a music director from 1996-1997and the experience taught me more about music and the music industry, good and bad, than I'd probably bargained for. For me, it was really all about the music and that remains the case, which is the easiest explanation why I've spent 20 years in non-commercial college/community radio. When I look back at those years, there are many great records that remind me of my time there, some tied to specific memories or specific people. But if I have to be completely honest, there isn't a record from that period of time that I love more than this one from Versus. I firmly believe that if Secret Swingers had come out at anytime over the last couple of decades it would have been hailed as the exceptional record that it was. Far too few took notice of the album in 1996, though the people of Atlanta got a healthy dose of it, we must have played virtually every song from this album at one point on Album 88, I certainly know that I did on my regular rotation shows during that time. Though I bought a copy at that time, it was one of the many casualities in 2004. This copy is one that I happily ran into several months back at Gimme Gimme records, which is really something else since only 2,000 of these were even pressed.
I've always thought that this record had the feel of a soundtrack, without ever being associated with a film or designed as such. It's not because there's a particular theme that runs through the record, it's because the images the lyrics and music evoke are so vivid that when I listen to virtually every song on this record, it's easy to visualize them as images and as if there's a film going on. The album begins with "Lose That Dress," a song that you'd think might have be a sexual reference, but it seems more like a plea from the singer to a friend that just simply needs to grow up, act her age, and stop dressing like she used to as a teenager so she can figure out who she really is for herself.
She's that girl that doesn't want to act her age,
We've been friends for years and that's why it's ok,
I don't know who she thinks she needs to impress,
Girl I know you're special but you gotta…
Lose that dress, Lose that dress
On the album "Lose That Dress" goes right into "Yeah You," as Fontaine Toups attempts to hold out the final note as long as she can, fails mightily, but picks it back up as Richard Baluyut screams "Yes!" and claps his hands. "Yeah You" is even more direct in its critique of bad behavior by a friend, in this case someone who is addicted to Heroin, which has put a major strain on the relationship. From there we move to "Glitter Of Love" which has a reference to Jennifer Jason Leigh that should feel dated, but instead feels timeless just because of the kind of actress she has been throughout her career.
You look real to me,
You're Jennifer Jason Leigh,
but you're taller than me,
and you carry a gun,
you look like so much fun,
I'm really stuck on you,
and that's more than the truth,
Give me the chance to prove my star-crossed love
That "I'm really stuck on you, and that's more than the truth" kills me every single time…Now, I could go on and on and on about every single track on this record, they're all written so vividly, but given how long this post already is (and what's waiting below) I thought I spent the rest of my time talking about the two tracks that have most kept this record in my mind for almost the entire 18 years since I heard it first.
"Jealous" remains my favorite song, it's a song that I played during my final show at WRAS in May 1998, at the literal half-way point of the show. The song seems to detail a tumultuous relationship, it seems like one party is likely cheating on the other, or at least is suspected of it and the song deals with the effect jealousy has on the relationship with lyrics that seem to play out through a confrontation, a split and an attempt at reconciliation. Like a number of the songs on this album, there's this great point/counter-point between the two vocalists that perfectly illustrates the conflicting emotions and feelings that come with an intense love affair that simply can't last, As Baluyut sings "I'm not really asking you to stay, in fact I'm really wishing you were far away," Fontaine coolly follows with, "I didn't mean any harm, Don't want to let you get far away."
"Jealous" is also such a quintessentially end of the 20th century kind of a song. I feel proud to have grown up in an era where we could disconnect the phone whenever we wanted no one to find us or bother us. "Jealous" marks that time in its chorus, which is just about the coolest thing that's ever been written:
Jealous…again,
Jealous like a good American,
Yeah we know,
Better to deny and never know,
How scare you are,
Baby please come home,
Come on baby, disconnect the phone,
Don't keep pushing me away,
Come on baby, promise that you'll stay
Though "Jealous" is my favorite song, it's not the best song on the record (I don't know if that makes any sense, but I think you know what I mean), the best song is "A Heart Is A Diamond." This is the closing credits song, the song that plays after everything has been put in its place, all the loose ends have been wrapped up and the whole story has been told. I think it's the best thing that the band ever recorded and lyrically it's sheer gold, so even though this post is already longer than almost everything else on this blog, I just had to print them all here, with one caveat, I've never been able to figure out what they say in that line in the chorus, "we can make it work, with a little ____." So, I've included the two words that seem to fit best from all my years singing along to this song in the car:
Every time you try to run away,
Someone's there convincing you to stay,
You're just gonna bury your heart in the ground ike a diamond,
Everyone is looking for answers to,
Questions they forgot to ask you,
You're your just gonna bury your heart in the ground like a diamond,
Dig it up and then come back to me
We can make it work, with a little amnesty,
don't forget, don't regret the secret you told me,
A heart is a diamond til you set it free
Everyone is looking at you for a sign,
It's hard enough to walk in a straight line,
And you're just gonna bury your heart in the ground like a diamond
Do you ever feel like you're too old,
To replace the memories that you sold,
Tell me all the stories that you never told, told anyone
Dig it up and then come back to me,
We can make it work, with a little empathy,
Don't forget, don't regret the secret you told me,
A heart is a diamond til you set it free
This memory could last a lifetime,
You can just sit there by yourself, silently,
A heart is a diamond until you set it free.
Play that song over and over again,
Don't pretend you didn't like it back then,
You're just gonna bury your heart in the ground like a diamond
When you know your heart is breaking up,
Will you just let it come to a stop,
Or are you gonna bury your heart in the ground,
until it's found
There's no way at 21 I could have appreciated that verse, "Do you ever feel like you're too old, to replace the memories that you sold, tell me all the stories that you never told, told anyone." I certainly felt old, less than a year removed from my mother's unexpected passing, but there's a difference between feeling old and feeling that you are too old to live the kind of life that you wanted for yourself when you were younger. I'm happy that at (almost) 39 those lyrics aren't directed to me, but they still feel like they're for me, that they're the kind of thing I need to say, and often do, to the people I love when it's clear that they're lost there way.
After listening to this record off and on and on and off again over the past 18 years I still marvel at how clearly personal these songs feel, written for specific people, specific relationships and how they still fit into some of the movies of my own life. One day, maybe I'll write a story, or a novel, or a screenplay about those Heroic years at Album 88. If I do, this will certainly be the soundtrack.
Cheers,
Michael